MOTION from AANA is the career exploration platform for the CRNA/SRNA market
Our Zillow-like career map gives AANA members the most comprehensive resource available to explore and evaluate employers, work locations and communities. Your sites are already on the map.
Verify and brand your sites to build awareness across our membership of 65k nurse anesthetists.

Invite members to join your talent network.

Add job profiles to attract qualified W2 and 1099 applicants.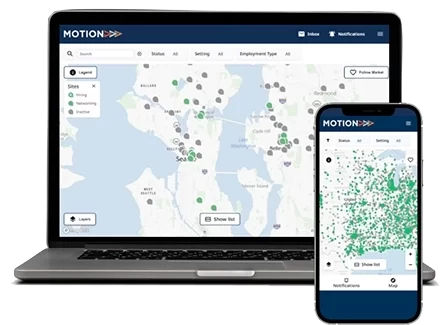 MOTION gives members a single platform to explore and engage with every potential employment site in the industry​

Take advantage of a better way to connect with CRNAs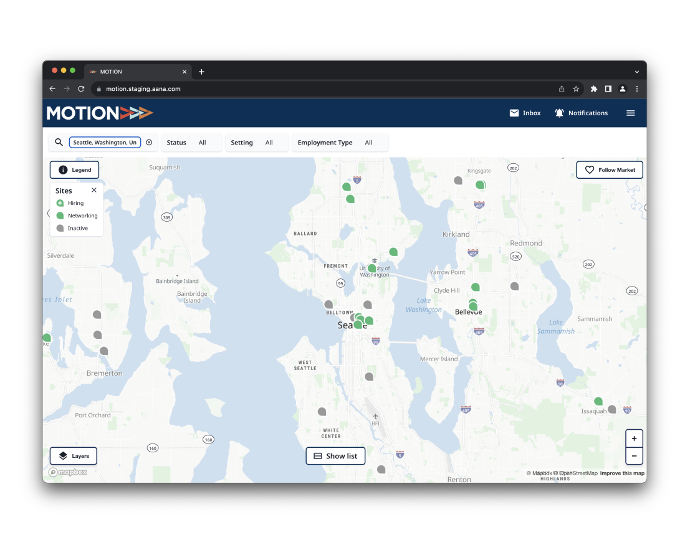 MOTION's intuitive map interface allows members to discover your employment sites, available openings and community assets.
You can market your sites to candidates through Location Profiles and even post jobs for those specific sites.

When Members 'Follow' your individual sites or job markets that include your sites, they'll receive notifications when you make material changes to your sites or job openings.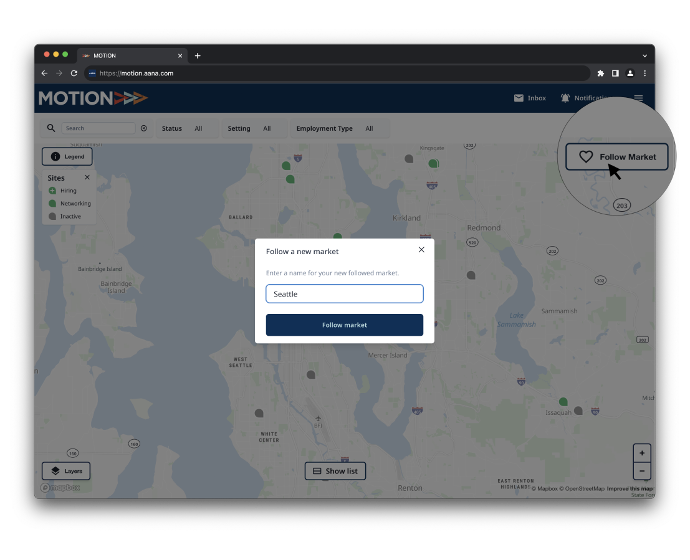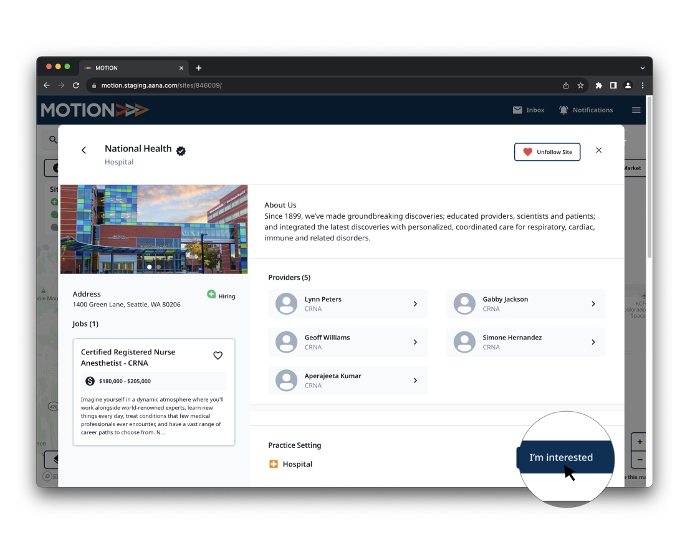 Members can message you directly to make inquiries, apply formally or join your talent network.
Post open positions and receive applications to attract members of AANA
Choose the features you need on a per-location basis.
Candidate messaging

Interested candidates can make a connection — even when a job isn't posted.

Location profile

Let the local professional community get to know your practice and providers.

Post images

Use photos of your facility, team, and other visual details to put an inviting face on your Location Profile.

Post unlimited jobs

Post unlimited jobs for a site.

Receive applications

Candidates can apply for jobs you post.

Get followed

Job seekers receive notifications of jobs you post and material changes to your profile.

Get started
Flexible, site-based pricing makes it easy and affordable.
Post unlimited jobs to each site you activate.
Change sites and jobs as needed.

Cost Per Month
Contract Term
Start by selecting a contract term.
Additional 15% off for AANA members